Your forex trading journey starts here
Discover the world of trading with a trusted broker
Knowing the basics of the forex market will give you a solid foundation where you can build your skills, trading strategies and even work towards a successful FX trading career – so let's dive in!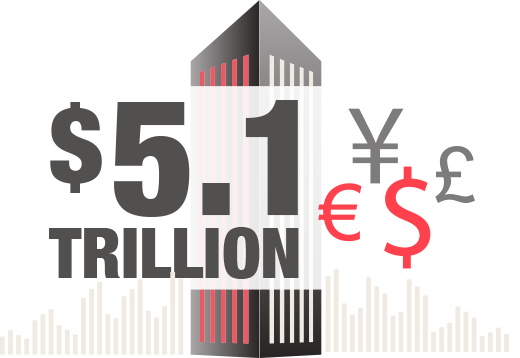 What is Forex?
The forex market is recognised as the largest and most liquid financial market in the world. The average daily forex transaction is now estimated at around $5.1 trillion, according to the most recent Triennial Central Bank Survey of FX and OTC derivatives markets.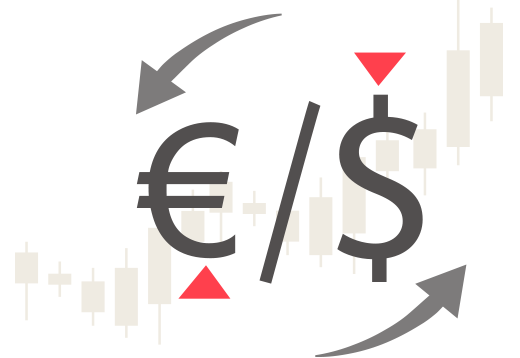 How to trade FX?​
Forex trading always involves a currency pair, so when you trade forex you're effectively exchanging one currency for another. For example, if you trade long EUR/USD, you're buying the EUR and selling the USD.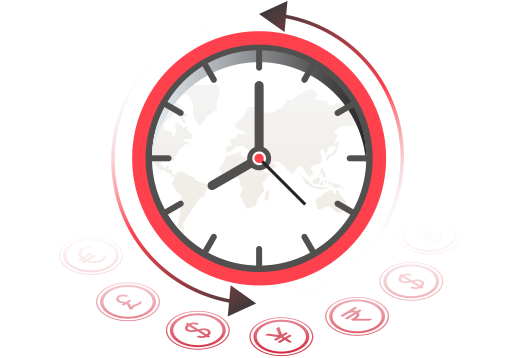 When can I trade Forex?
The global FX market is also known as a market that never sleeps. This is because forex markets operate on a 24-hour, 5-day cycle that operates in three major forex centres – i.e. Japan/Asia, UK/Europe and the US (North America). So, wherever you are in the world, you can trade forex almost any time of the day as long as you have access to an online trading platform and a reliable internet connection.
Fx products available for you to trade
While there are hundreds of different trading products to choose from, most traders stick to five main categories:
FX MAJORS
The world's most commonly traded currencies (EUR/USD, USD/JPY, GBPUSD etc.)
FX CROSSES
Currency trades that don't involve the US dollar (EUR/CAD, EUR/GBP, GBPJPY etc.)
EXOTICS
Currencies from emerging markets (Thai Baht, Turkish Lira etc.)
COMMODITY BLOCS
A group of currencies closely linked to a commodity (CAD, NZD, AUD)
SAFE HAVENS
Safe Havens: Currencies traditionally known for their stability (JPY, GBP, USD, EUR, CHF)
The costs of forex trading
Trading doesn't have to cost a lot – with the help of leverage you can trade Forex for as little as US$10. And with our transparent pricing, you'll always know where you stand.
What is leveraged trading?
Using leverage gives you full exposure to a trade even if you only have a small amount of capital to contribute. For example, applying leverage of 400:1 means you could use $1,000 to control $400,000 worth of trades. Just remember that the higher the leverage, the higher the risk.
Why are spreads important?
In Forex trading the spread determines the price you'll pay for your trade. Every trade consists of a buy (Bid) price and a sell (Ask) price, with the spread being the difference between the two. In general, the lower the spread the better the price will be.
Are there any other costs?
Most fees and commissions on Axi accounts are either waived or covered by the broker. However, there are a few products that come with extra costs, for example "swap" or "rollover" fees on Futures trades. If you're unsure, just check with us before you trade.
Risk management when trading forex
Like any other kind of trading, FX trading does carry risk. But by using some simple trade management strategies and tools, you can work to minimise risk and focus on opportunities.
Know your risk profile​
Are you a big risk taker, or a more careful and considered trader? Take some time to consider your general attitude to risk and use this to shape your trading strategy.
Leverage
While the use of leverage opens up the potential for large profits, it also increases the risk of outsized losses. The lower the leverage, the lower your risk.
Right-size your position​
Getting your trade sizes right has a big impact on your bottom line. Asking yourself how much can you can afford to lose will help determine position sizes that are appropriate for you.
Stop Losses​
Getting your trade sizes right has a big impact on your bottom line. Asking yourself how much can you can afford to lose will help determine position sizes that are appropriate for you.
Trading psychology​
Similar to knowing your risk profile, understanding your own psychology shapes the way you trade. Think about how you would deal with different situations, like large profits or losses, and prepare yourself mentally for those outcomes.
Education you need to trade forex
The Forex market is a dynamic environment where there's always something new to discover. To help you keep learning and improving, we offer access to extensive educational trading resources.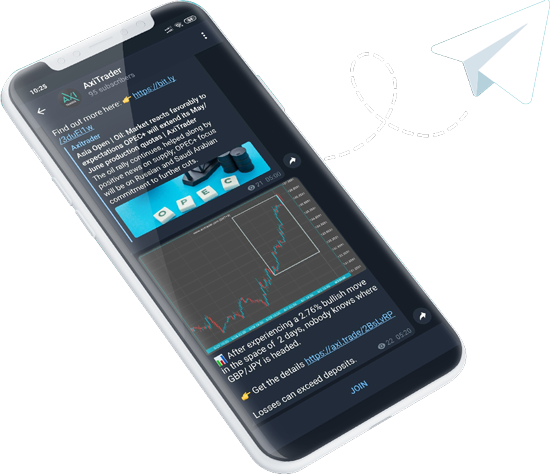 Subscribe and stay tuned for the latest market analysis, educational content and product updates.
Step inside The Trading Circle – an exclusive Live Trading Room for forex traders.
Open your account. Trade your edge.
Start your trading journey with a trusted, regulated, multi-award winning broker
Axi is a trading name of AxiTrader Limited (Axi), which is incorporated in St Vincent and the Grenadines, number 25417 BC 2019 by the Registrar of International Business Companies, and registered by the Financial Services Authority, and whose address is Suite 305, Griffith Corporate Centre, PO Box 1510, Beachmont Kingstown, St Vincent and the Grenadines.
Axi is 100% owned by AxiCorp Financial Services Pty Ltd, a company incorporated in Australia (ACN 127 606 348). Over-the-counter derivatives are complex instruments and come with a high risk of losing substantially more than your initial investment rapidly due to leverage. You should consider whether you understand how over-the-counter derivatives work and whether you can afford to take the high level of risk to your capital. Investing in over-the-counter derivatives carries significant risks and is not suitable for all investors.
When acquiring our derivative products you have no entitlement, right or obligation to the underlying financial asset. Axi is not a financial adviser and all services are provided on an execution only basis. Information is of a general nature only and does not consider your financial objectives, needs or personal circumstances. Important legal documents in relation to our products and services are available on our website. You should read and understand these documents before applying for any Axi products or services and obtain independent professional advice as necessary.